Criminal Defense Trial Attorney
If you have been charged with a criminal offense, you may be worried not only about the criminal consequences you may be facing, but also about your job and your reputation.
As a conviction for even one crime can affect your life, your family and your future, do not attempt to plea bargain or otherwise handle your case on your own. Instead, seek the representation of an experienced attorney who will fight to protect your rights.

At The Brody Law Firm, we have handled many criminal defense cases throughout South Florida and around the country and will do everything in our power to defend your rights after you have been charged.
We know every case is different and we want to help you with yours. Contact our Miami criminal defense attorneys today for a consultation about your case.
---
Drunk Driving Defense in South Florida

Florida drunk driving laws are strict, with punishment ranging from fines to jail time.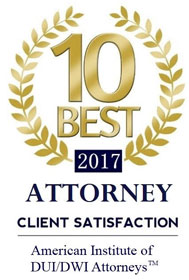 If convicted of driving under the influence (DUI), the charge will stay on your record. When you apply for a job or other opportunities, this may come back to haunt you.
You need a lawyer well-versed in South Florida drunk driving laws who can fight to get charges dropped or your sentence reduced.
Once you are charged with drunk driving, the clock starts ticking: To challenge the automatic revocation of your driver's license, you must take action within 10 days of the arrest.
Aggressive Traffic Ticket Defense
Under the Florida DMV point's system, traffic points are allocated towards specific traffic violations. These points can quickly add up against your driver's license, especially if you commit multiple offenses in a short period of time.
If you have been arrested for a traffic violation and don't have dedicated representation to protect your rights, you may be making a mistake that will seriously affect your future.
Another consequence of a traffic violation conviction is increased insurance premiums. Don't take even the smallest traffic charge for granted; you never know when you might be charged again. Contact our legal team today for additional information.
Contact Us Today For a Free Consultation
We realize that criminal defense matters are not always confined to business hours. In fact, many criminal defense cases stem from incidents that occur on nights and weekends.
For this reason, our attorneys are available 24 hours a day, 7 days a week should you need assistance.
Contact us anytime and we will be happy to review your situation in detail and discuss your legal rights and options.